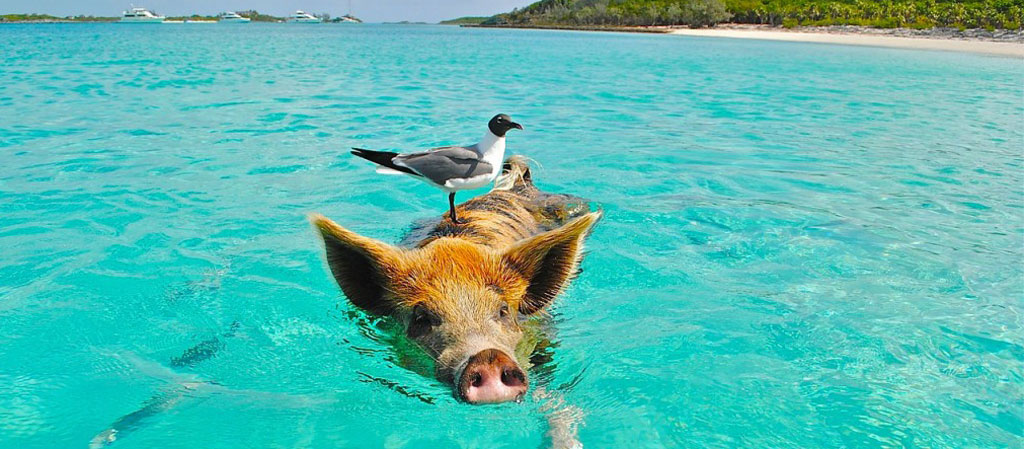 Posted on September 7, 2015
When you live on virgin beaches and pristine water, your neighbors become the indigenous wildlife. Make your way to the heart of the Exuma Cays and the Exuma Cays Land and Sea Park, a 176-square-mile natural reserve where you will find brilliant creatures. Luckily, when choosing to live at February Point, you have some of the best neighbors around.
EASY GOING-
The easy life in this island chain isn't just for film stars. Some less famous fellows can be spotted frolicking on the beaches and basking in the shallows- the pigs of the Exumas. The phenomenon is a bit of a wild life enigma, as these animals are not indigenous to the Bahamas. But they have happily accepted the sun-soaked beaches as their home, playing in the sand and swimming up to boats. From February Point, pig beach is just a short boat ride away.
PLAYFUL-
The Bahamas dolphins are those neighbors that love a good time! If they could have house parties they would. They are friendly, social creatures that love to play. To swim with dolphins in The Bahamas is surely one of life's truly special moments. An added joy of swimming with dolphins here is that they make it so easy for us to join them. Wild dolphin encounters are almost everyday occurrences. You can even meet dolphins without getting wet at the rehabilitation centre on Sanctuary Bay, Grand Bahama.
QUIET-
The Iguanas of Allan Cay are just a short boat ride from February Point. They are an endangered and gentle species that keep to them selves. These iguanas may look fearsome but they welcome visitors bearing gifts of fruits and vegetables specifically grapes on stick. The way to this neighbor's heart is through their stomach. They won't be throwing any wild parties but if you are need of some peace and quiet, hang out with these guys.
TALKATIVE-
You know those neighbors that never stop talking? The Islands of the Bahamas calls those neighbors birds but don't worry they don't gossip. Some of the most exotic and interesting birds are found in the Exumas. Waterfowl and wading birds are the most common types. Others include a variety of egrets and herons, Bahama pintails, and Caribbean coots. But remember to keep an eye on the sky, or you might miss the beautiful ospreys and belted kingfishers.
CURB APPEAL-
These neighbors do not have to decorate their front yard because they are the decorations. The beautiful fish of the Exumas surround the homes at February Point. The water is clear and the sunbeams light up all the coral and sea life. You may encounter parrotfish, yellow snappers, and bicolor damselfish. But these fish are anything but damsels in distress. You may not be able to borrow sugar from these neighbors but admiring their beauty is just as sweet.
For an advance preview of the homes at February Point, click here.