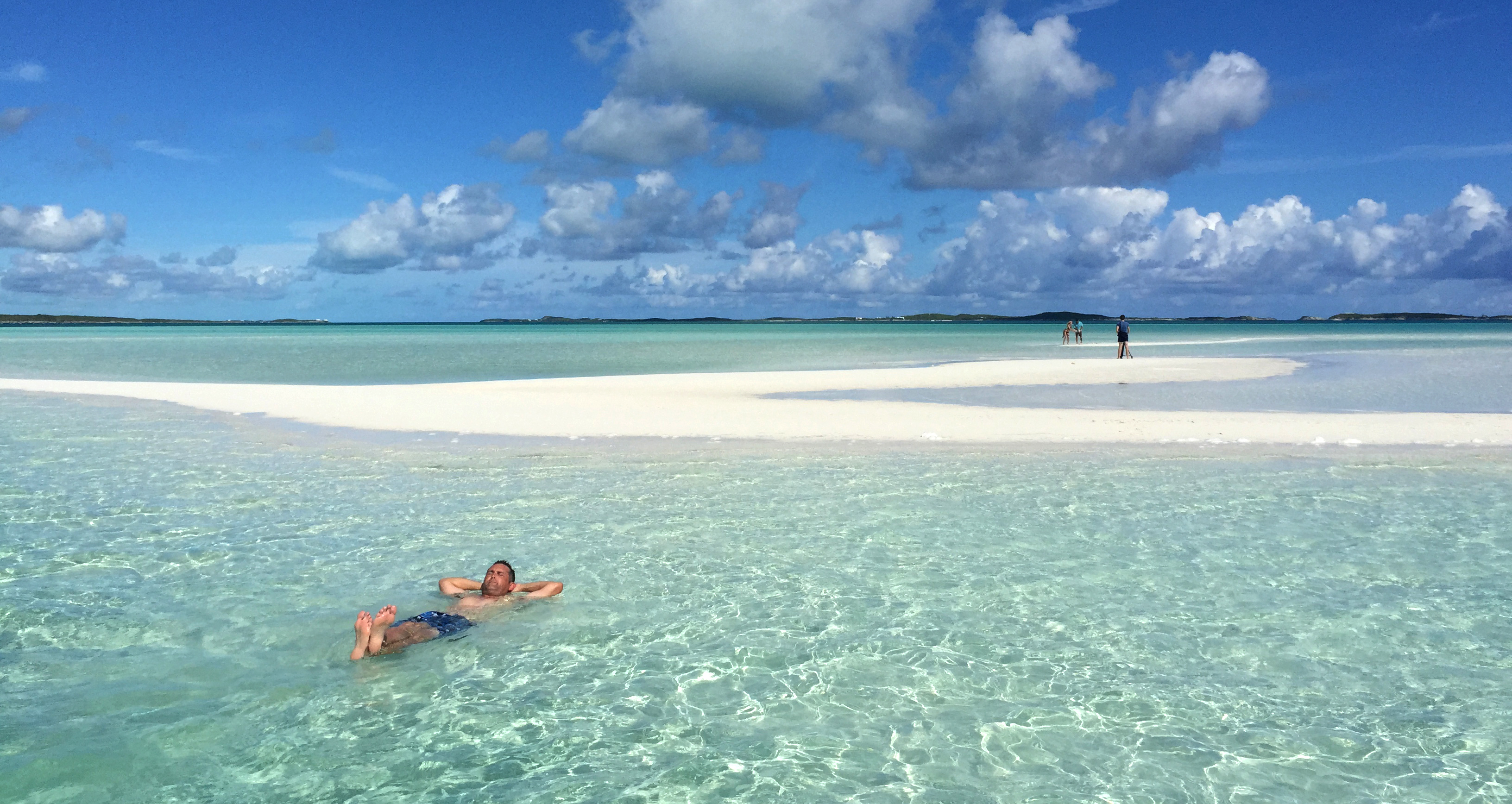 Posted on December 2, 2015
If your only Bahamas' adventure has been traveling to Nassau, then you're missing the "BEST" part of the islands! Picnic on a sugar-sand beach with friendly, grape eating iguanas…or visit an island where the welcome committee is a family of swimming pigs. Or how about exploring a hidden grotto with crystal clear water or literally walking across the Tropic of Cancer?
You won't find these things by visiting the well-known places like Nassau or the Atlantis Resort. You need to head to the out-islands of the Exuma Cays—an adventurer's paradise located between Nassau and the Turks & Caicos.
Often over looked by the Bahamian tourism machine, Exuma has grown into a cult favorite of the yachting and boating set. It's hard to imagine, but the crystal clear water is breathtakingly more beautiful than you might expect. Known to be among the best in all of the Caribbean – The Exumas were featured in the 1965 James Bond flick, Thunderball. More recently, Captain Jack Sparrow's famous treasure chest scene on the pure white Caribbean sand beaches was filmed nearby.
The Exumas are a place where the rich and famous escape to the their private retreats. Dozens of billionaires, corporate CEOs and famous celebrities mingle throughout the islands. "They pull their yachts up or land their sea planes here to enjoy our food, lay on our beaches and not be bothered," says Kenneth "KB" Bowe, the owner of the picture-perfect, ramshackle looking beach bar and grill, Chat 'n' Chill on Exuma's Stocking Island.
For those looking to join in the fun, there's a homeport ready to welcome you to the out-island lifestyle. February Point, located on Great Exuma, enjoys an enviable location just 20 minutes from the international airport and five minutes to the conveniences of Georgetown. The private community perfectly situated to everything on land and sea. Condominiums, Estate Homes and the Bahamas only overwater residences are available for sale, stay tuned for pricing. February Point will be unveiling its newly constructed Beach Club and Marina in December, one of the finest luxury amenities anywhere in The Bahamas.
Discover the real Bahamas, visit FebruaryPoint.com to preview the waterfront vacation rentals currently available or to request information on residential real estate.