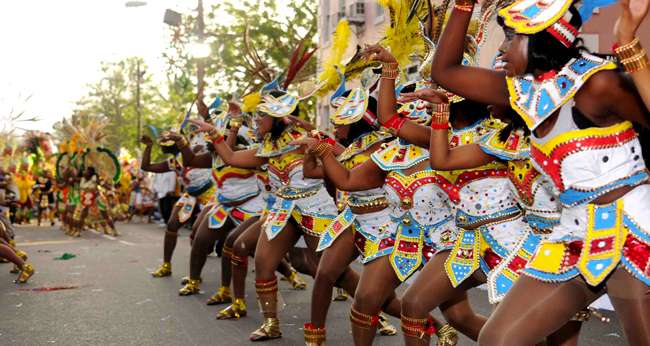 Posted on December 16, 2015
The Bahamas holiday season is a time when family is central and friends are near. They have adopted many of the same traditions and customs as other countries including gift-giving, feasting, and sending Christmas cards. But one tradition, the Junkanoo festival, is unmistakably Bahamian. Travelers will find it easy to join in the festivities, with the added bonus of celebrating far from frigid temperatures.
WHO: Locals dress in brightly colored costumes to perform ethnic dances to the accompaniment of drums, whistles and cowbells. Bahamians of all ages dance through the streets like a wild ocean of color.
WHAT: Junkanoo is a cultural festival that has been compared to Rio's Carnival and New Orleans' Mardi Gras. It's a high-energy revel filled with extravagant characters, vibrant colors and an infectious spirit of celebration.
WHEN: All of the holiday's good cheer spills out into the streets at the end of December but peaks on New Years Day.
WHERE: This celebration is held throughout the Bahamas. The Exumas' Junkanoo Parade takes place on Great Exuma, the home of the private community of February Point. The parade starts in George Town and ends at Regatta Park.
WHY: Junkanoo is a tradition that has been passed down through many generations in the Exumas. And for the love of dancing, barbecues, and music (and rum)!
For those lucky enough to trade snow for sand this winter, February Point is a picturesque home base for the Junkanoo festival and other holiday festivities. The February Point community, just minutes from Georgetown, offers prime oceanfront properties and luxury villas available for ownership or rent. Residents will be able to enjoy the holidays at the new Beach Club opening in December. With the infinity pool, food and drinks at the Rusty Anchor Bar & Grill, an array of treatments at the spa, and a fully equipped fitness center, you can spend this holiday season relaxing in paradise. For more information on February Point, click here.