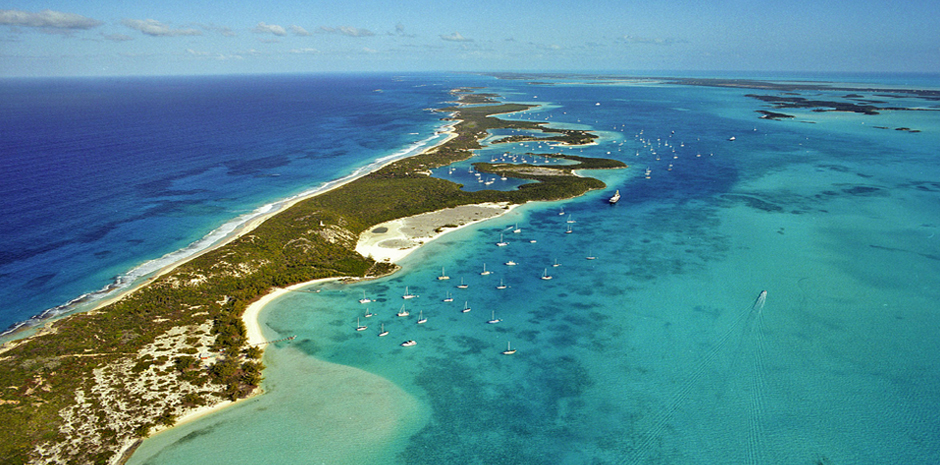 Posted on August 18, 2016
Edged with sugar-sand beaches, crisscrossed with nature trails above and blue holes below the surface; with resorts, eco-cottages and the legendary Chat 'N' Chill, Stocking Island would seem to have it all.
This four-mile-long island still manages to offer a vacation full of deep satisfaction. Surfers find their true destination over on the Atlantic side. Snorkeling is spectacular in the coral gardens—and pretty much everywhere else.
The famous Angelfish Blue Hole and Mystery Cave have lured those as celebrated as Jacques Cousteau. However, even experienced divers are probably best off going down with someone who knows the ins—and outs—of the feature's strong tidal currents.
The nature trails lead you up to the top of the island and archipelago wide views. For those who are just fine staying on the beach, the island offers an array of beautiful shells including giant sand dollars and, of course, the conch. Venture a few steps into the water—especially at Chat 'N' Chill—and you'll discover the delights of swimming with the rays.
But just before you amble down to the happy chaos of Chat 'N' Chill—do this.
Breathe. Look around. Turn and turn again. Take it all in.
For you may just find—no matter how often you come—that it will be too long until your boat lands here again…
The pristine waters, shifting sandbars, and unique marine life make the Exumas the most exotic of the Out Islands. On Great Exuma, you'll find February Point that spans 80 acres of beautiful coves and virgin beaches. February Point is the perfect homeport during your adventures through the Exuma Cays. Premier home sites range from a quarter acre to a full acre in size, all with views of the breathtaking beaches and turquoise waters.
To learn more about the once in a lifetime opportunity of building a custom home or getting in on the ground floor of our Overwater Penthouses at February Point, click here