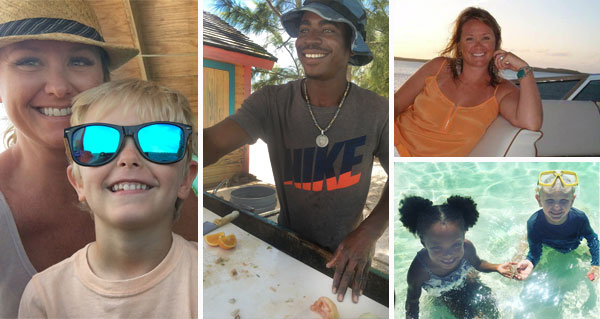 Sarah Swainson has traveled to many exceptional places – from as far North as Alaska to the southernmost islands of the Caribbean. After years of working as a boat stewardess, she grew so enamored by the Caribbean waters; she decided to make it home.
George Town, Exuma is where she decided to plant her feet on dry land. The beauty of Exuma's turquoise waters and the friendliness of its residents blew this seasoned Caribbean traveler away.
"I'm here because of the people. It's a family island where everyone is connected and genuine. From Barraterre to William's Town, the island offers great beaches, boating destinations, food, and a personal connection to residents that is truly unique," explains Sarah, who, like many residents, buys local and supports local businesses and families in her spare time. "You grow a connection to everyone, it just feels warm. George Town is the perfect combination of community and access to what you need," says Sarah, Manager of the Exuma Beach Resort.
For those visiting Exuma, boat (or drive) into George Town and stop into Exuma Beach Resort and meet Sarah. Her lively character will easily convince you stay to enjoy tasty local fare at Latitudes Bar & Grille by Chef Gareth and refresh with a house Rum Punch. Trust us, you'll be glad you did!
Whether you are looking for a new place to call home or to vacation, Exuma is a destination admired around the world for its spectacular natural beauty and vivid blue waters. Discover the essence of freestyle living at February Point. With the recent completion of the new Beach Club, floating concrete dock marina, Rusty Anchor Restaurant and Hollis Day Spa, February Point is quickly becoming a top destination on Exuma. In conjunction with the new amenities, new luxury residences are under construction. Click here to learn more about the residences at February Point, the authentic out island life awaits.