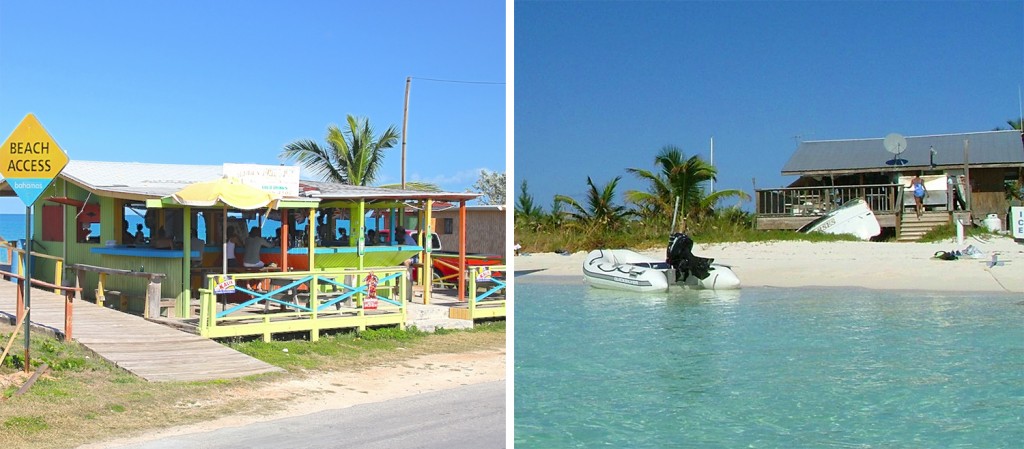 Posted on October 12, 2015
Taking in a Bahamian sunset is that much better with a goombay smash in hand and sand between your toes. It's the freestyle way of life of Great Exuma that delivers a true out-island experience where you can relax your shoulders and let your hair down with new friends and old. If you're in the Exumas, here are five of our favorite beach bars:
Chat 'N' Chill is the brainchild of Exuma native Kenneth Bowe. Boaters, yachties and visitors come from all over the world to enjoy the casual laid-back atmosphere of the volleyball beach bar and grill on Stocking Island. Visitors sign the bar as the chillologist crew serves up cold rum punch. Enjoy fresh conch at the conch shack and a swim on the beach with the stingrays. It's been called "heaven on earth."
The Peace and Plenty in Downtown George Town is a local hot spot for poolside parties and live bands keeping both visitors and locals on the dance floor. Kick off your shoes and sip on a perfectly mixed cocktail as you overlook the vibrant blue waters of Elizabeth Harbour. Arrive at the dock by boat and stay as long as you like.
Santana's Grill Pit is a seaside open-air restaurant and the hot spot on Little Exuma. Grab a cocktail and some of the best conch fritters around. A favorite of the cast of Pirates of the Caribbean, Santana's won't run out of rum matey! While you're there, venture down to Mom's bakery for her famous coconut bread.
The Fish Fry, a cluster of shacks 2 miles north of George Town, always has something going on. On Monday nights there's a rake 'n' scrape band and a DJ is usually there on Friday and Saturday. Kick back with an authentic Bahamian meal and ice-cold beer.
Exuma Beach Resort is also just north of George Town, and popular with locals for its festive waterside tiki bar. Plan on being here just before dinner, as the restaurant is one of the best on the island. Curry shrimp, local lobster and delicious conch chowder await!
With construction nearing completion on The Beach Club at February Point, there will be even more to talk about soon. This gated private community offers luxurious vacation rentals and recently unveiled its luxury condominium offering. For those seeking a new address in the Bahamas, the February Point Beach Club will serve as the social centerpiece for the community and offer spa services, a fitness center, an infinity-edge pool and tropical cabanas.
To stay updated on February Point, learn about vacation rentals and receive you free copy of Freestyle Magazine, click here.