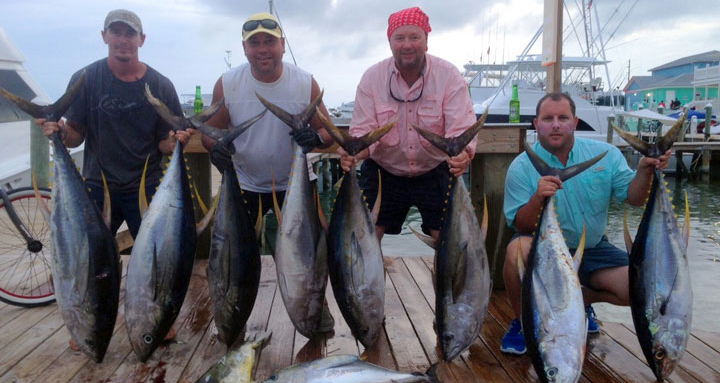 The Bahamas are a fishing destination admired around the world for their trophy fish, year round warm weather, and vivid blue waters. Every year, anglers test their skills during several tournaments and vie for the coveted title of Best Fishermen.
The fifteenth annual Harbourside Marine Rotary Tuna Classic Fishing Tournament is set to take place on Friday June 3rd and Saturday June 4th. The event is a qualifier for the International Game Fishing Association World Championships. Eligible fish include all species of tuna, wahoo, dolphin, and grouper/snapper and minimum weights apply.
Prizes will be awarded for the top three fish by weight in the tuna, wahoo, and dolphin category. The Grand Tournament Prize will go to the heaviest tuna. There is also a heaviest grouper/snapper award as well as a Ladies and Junior Angler prize. The official awards ceremony will take place on Friday June 10th at 6:30pm and all are invited to attend. There will be a live band, food, raffle, silent auction, awards, and more family fun.
The best part? All proceeds from the event are used for community service projects including food donations, the National Junior Sailing School, and the Bahamas Association for the Physically Disabled. The funds also help support Rotary's worldwide effort to eradicate Polio, provide scholarships, and support of other international programs. The 2015 tournament raised over $30,000.
Who has the best homeport for the tournament? The residents of February Point on Great Exuma. The February Point community offers prime oceanfront properties and luxury villas available for ownership or rent. The Views oceanfront condominiums, named for the scenic views of the turquoise blue waters of Elizabeth Harbour, are now move-in ready with luxury furnishings. By the end of the year, the expanded Marina will be complete, and the Bahamas' first overwater Penthouses will be under construction. February Point's luxury Beach Club recently opened and the Rusty Anchor bar and grille is serving up authentic Bahamian hospitality. Secure the best selection and pricing now. To learn more about February Point real estate, click here.