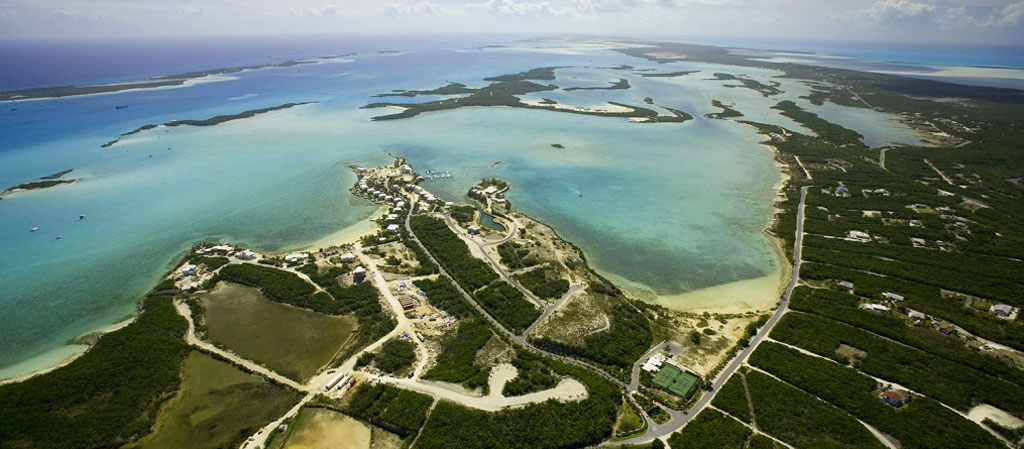 Posted on September 21, 2015
The Exuma Cays 120-mile-long island chain are the most exotic of the out islands. They are a collection of tiny jewels set in a beautiful aquamarine and sapphire backdrop. The pristine waters and shifting sandbars make the Exumas one of the top ten things you absolutely must do in the Caribbean. On Great Exuma, you'll find the laid back capital Georgetown and the February Point Resort Estates that span 80 acres of beautiful coves and virgin beaches.
A short car ride from February Point is the city of Mt. Thompson and the Three Sisters Beach. Here you will find a pleasing view of the Three Sisters Rocks jutting above the water just offshore. Legend has it that the rocks were formed when three sisters, all unwittingly in love with the same English sailor, waded out into deep water upon his departure, drowned, and turned into stone. If you look carefully next to each "sister," you'll see smaller boulders—the children with which the sailor left them. Since that time, Three Sisters Rock has been deemed a place of romance and, oddly enough, good luck. Today, many couples choose to exchange their wedding vows there, confident in their belief that the myth will inspire a long and wonderful union.
For more stunning scenery take a short trip to Stocking Island, which features spectacular views of the Exumas from atop its high bluff. The island acts as a barrier and protects Georgetown from the Atlantic. The central part of Stocking Island features an inlet known as Hurricane Hole where sailboats anchor for protection during storms. Opposite Hurricane Hole is a sandbar beach where locals have built a popular bar/restaurant accessible only by boat known as Chat and Chill where they, well, chat and chill.
If the Chat and Chill isn't your scene, head to Staniel Cay and try out Staniel Cay Yacht Club's bar and restaurant for some cracked conch on the grill. Staniel Cay also has a landing strip that serves as the gateway to the northern stretch of Cays. This small island is known for its hospitality and Thunderball Grotto, one of the most outstanding snorkeling attractions in all of the Bahamas. While this hollowed out rock has been the location for the James Bond movies Thunderball and Never Say Never Again, it lures snorkelers to enjoy a natural fishbowl…swim in at low tide and enjoy many varieties of colorful fish, corals, and sponges.
If you're looking for a quick day trip from the February Point Resort check out Allan Cay's iguanas. The only way to visit Allan Cay is by boat. The iguanas are so accustomed to tourists that they wait on the beach to be fed handouts. Visitors come bearing gifts for these iguanas in the form of fruit on a stick! The entire population is estimated at 1,000 iguanas.
If mammals are more your thing, Big Major Cay has the beach for you- pig beach. These swimming pigs are cute, friendly and, will spend an afternoon bodysurfing with you. No one knows how the small group of pigs got there but they sure don't mind them staying. On Big Major Cay you can spend an afternoon relaxing under the shade of a palm tree but be ready to share it with a pig.
The Exumas are so precious — it's reefs and island environments so pristine — that the Bahamian government set up the Exuma Cays Land and Sea Park, one of the world's most successful marine parks. These islands are beautiful and will stay beautiful. All of this is right outside your door at February Point Resort Estates.
Premier home sites in February Point range from a quarter acre to a full acre in size, all with views of the breathtaking beaches and turquoise waters that surround our enviable resort community.
Preview the Homes at February Point HERE.