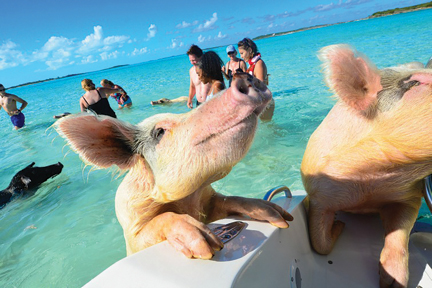 With 365 islands and cays on the 130-mile stretch that is the Exumas, it can seem like a daunted task to visit the entire area. But if you island hop, you can sure try.
Island hopping is not only the logical solution to exploring this rustic island terrain but also the most adventurous one, too. From swimming with pigs to feeding grape-eating iguanas, each island promises a unique and paradise driven experience. Some, of course, more than others.
Take, for instance, Stocking Island in Great Exuma. Aside from the mouth- watering delights you can encounter like grilled fish, fresh conch salad and Sunday barbeque bashes, there are also some interesting relics you can find. Stromatolites are one of the oldest known macrofossils on earth. They encode biological activity that can last thousands of years and are said to be found on Stocking Island, specifically in the Mysterious Cave.
From Great Exuma you can also reach Little Exuma by its connected bridge called the "Ferry." There, you can indulge in the same conch fritter delights that enthralled Johnny Depp's palate while he was filming Pirates of the Caribbean on location. Or you can visit the longest, most romantic and prettiest beach on the island: the Tropic of Cancer Beach, also known as Pelican's Bay.
Exuma Cays Land and Sea Park is also a must-see destination. The world's first-ever land and sea natural wonder is spread across 176 square miles, and it preserves the vast natural underwater world the Bahamas has to offer.
Amid all the oohing and aahing, don't forget to stop by Staniel Cay on Little Exuma, where the Thunderball Grotto, a cavernous beauty, is every diver's paradise.
On your island hopping travels visit Great Guana Cay, where Bahamian rock iguanas welcome you with open mouths. Bring plenty of grapes, place them on the end of a stick and feed the reptiles as if they were Egyptian royalty.
Iguanas aren't the only animals to display unusual behavior. There are swimming pigs on Big Majors Cay, and they too expect to be pampered with food. But be careful; they can become a little overzealous when nibbling at the food in your hands.
History buffs, visit the ruins of Hermitage Estate in Little Exuma, the old tombs of Rolle Town in Great Exuma and the Salt Beacon in Little Exuma, a 200-foot white pillar that was built to help guide ships in from their travels.
One can marvel at every turn. So while you're navigating through the picturesque Exumas, be sure to bask in not only its warmth but also its glory. All of this is right outside your door at February Point Resort Estates. Premier home sites in February Point range from a quarter acre to a full acre in size, all with views of the breathtaking beaches and turquoise waters that surround our enviable resort community.
Preview the Homes at February Point HERE.