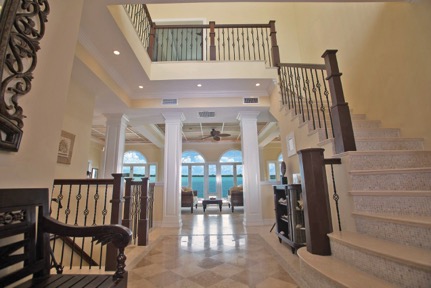 A favorite hideaway for celebrities and billionaires, the Exuma Islands of the Bahamas include 365 islands and cays offering miles of tranquil beauty and exotic adventures.
Resorts, luxury vacation residences and Bahamian towns and villages dot a region noted for miles of unspoiled beaches, uninhabited islands and the world's most pristine crystal-clear waters teeming with sea life. On the Exumas, visitors and residents never outnumber the idyllic spots where one can enjoy complete solitude on land and on the sea.
Those seeking the perfect escape, one in which the unspoiled landscape and ever-changing vistas of sea and sky are cocooned within the spoils of luxury amenities and white-glove service, are embracing February Point, the most beautiful—and ambitious—new luxury development on Great Exuma.
And it's available NOW. Why wait? Buyers can purchase today and begin a new, thrilling chapter of adventure and downtime tomorrow. Seasonal escapes, family time and permanent vacations never, ever need be the same.
Moor your vessel in the marina. Bring your dive and fishing gear, your tennis racket and your family and friends. Perhaps most important of all, bring your sense of wonderment. Because while many believe there's nothing new under the warm Caribbean sun, the freestyle lifestyle of the Exumas from the February Point perspective promises totally new, exhilarating experiences.
Forward-looking investors understand that the luxury real estate market in the Bahamas is getting hotter every week. And February Point continues to grow with more outstanding residences and more amenities that today's top-tier vacation homebuyers desire. Plans are in development for a second, state-of-the-art, full-service marina for yachts up to 150 feet. Soon an expanded Marina Village will offer additional treats such as boutiques and eateries. February Point offers a wonderful sense of community while honoring each resident's privacy. Join in on the fun, or relish the solitude. There's no other place like it anywhere. And it just keeps getting better.
With easy access from the airport, an on-site marina, the new Beach Club and a staff that's ready to please, February Point residents have fallen under the spell of the Exuma freestyle magic. It's your turn to give it a try. For more information on luxury vacation rentals or the custom oceanfront residences and penthouses at February Point, click here.