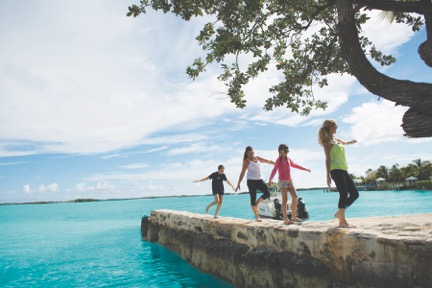 Posted on August 10, 2016
February Point serves up all the ingredients of paradise. If Islands Magazine calls Great Exuma Bahamas one of the Top 5 islands to live on, then February point is most assuredly the island's most coveted address.
Eighty acres of lush island foliage, white sand beaches and clear azure waters provide the perfect setting for an unmatched lifestyle that includes friendly service and world-class amenities.
Overlooking Elizabeth Harbor, the Beach Club is the place to meet and greet or simply relax poolside with your favorite libation. Dine on gourmet cuisine at the Rusty Anchor, renowned for inspired preparation of the freshest catch.
Indulging wears many happy hats. A few of the more memorable may be found at The Spa at February Point, where massages and body and beauty treatments bring about an even higher sense of rejuvenation while overlooking the calming, turquoise sea.
Two hard-surface tennis courts provide play year-round. Adjacent to the tennis courts is a fitness center, so no matter what your game you can stay in top form.
Adventure is in the air…on the water… under the sea. And it's right outside your door. Explore Great Exuma from every angle. Coral reefs filled with sea life mesmerize snorkelers and divers. Hidden coves, deserted beaches and nearby Stocking Island with a private spot just for February Point invite exploration. Boaters can moor their vessels of any size in the harbour.
And finally, there's the view at the beginning and end of each day. Every February Point home boasts breathtaking views, from villas overlooking the harbor to custom estate homes on the ridge or ocean. On acre Estate homes on the ridge command cooling cross-breezes and irresistible vistas of the bay and Stocking Island. It is here that February Point craftsmen—architects, builders, designers—can create one-of-a-kind masterpieces befitting a one-of-a-kind life.
Before, during and after your stay, trained staff will ensure that every detail is attended to. For residents who place their homes in the Vacation Rental Program, the property tax is exempt.
Beauty. Luxury. Privacy. Adventure. February Point is calling. The Exumas are tiny jewels admired around the world for their yachting community, uninhabited islands, and crystal clear waters teeming with sea life. The Exumas promise new, exhilarating experiences and there's no better place to learn about them than Freestyle Exumas. Request your copy here.