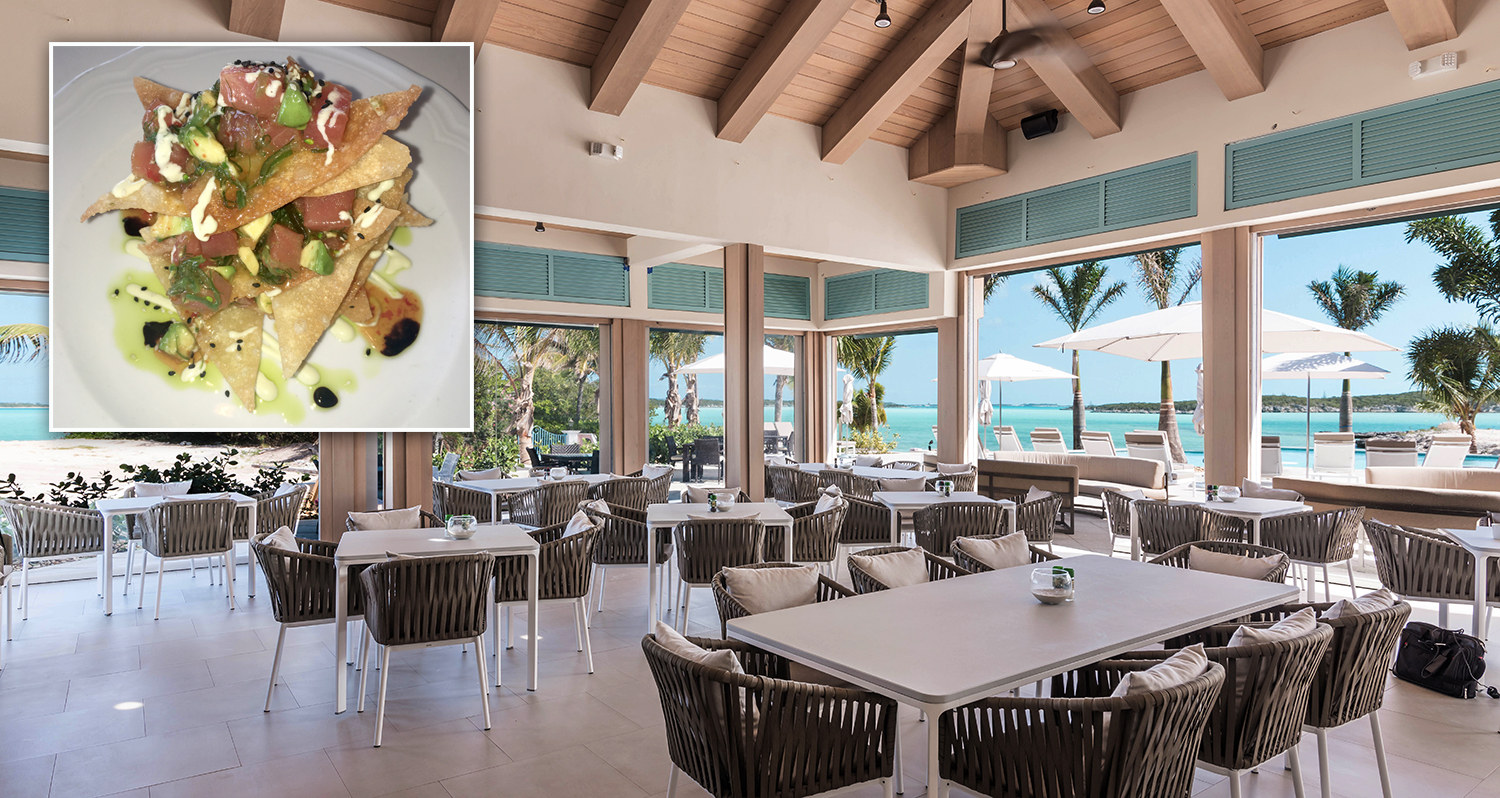 The Exumas in The Bahamas are a place where the salted breeze not only stirs palm fronds but also appetites. While most every restaurant in the Exumas serves seafood beautifully, there is one that is particularly note-worthy.  Where the fresher-than-fresh catch goes from the private dock to the kitchen prep tables.
The Rusty Anchor Bar & Grill just opened within the private community of February Point. The brand new Beach Club is home to the Rusty Anchor Bar & Grill, overlooking Elizabeth Harbour. The staff and chef from the Coral Bistro are now on hand in their new location. Check out the signature dish:
Ahi Tuna Poke
Ingredients:
Fresh sweet corn tortilla chips
Locally caught tuna
Avocado
Wasabi mayo
Olive oil
Balsamic vinaigrette
Optional sesame seeds
Directions:
Stack the tortilla chips with the tuna and chopped avocado. Then drizzle with wasabi mayo, olive oil, and balsamic vinaigrette. Finish off with chopped basil and a sprinkle of sesame seeds then savor the sweet and spicy delight.
The luxury Beach Club not only features the Rusty Anchor Bar & Grill but also Hollis Day Spa, a beachfront resort-style pool and February Point's real estate sales office. Construction is well underway on the community's first oceanfront condominiums. The first building in The Views condominiums will be completed by September of this year. By the end of the year, the expanded Marina will be complete, and the Bahamas' first overwater Penthouses will be under construction. To learn more, click here.