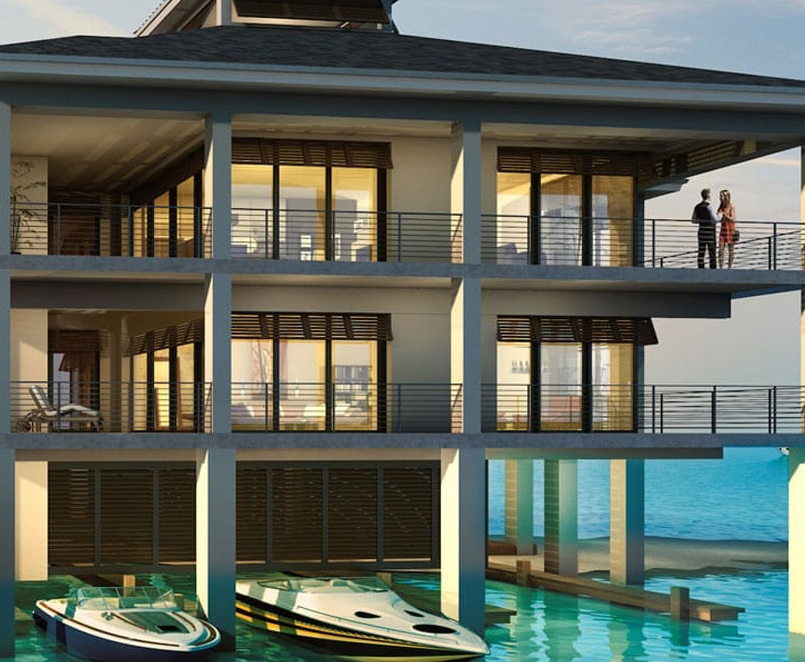 The Overwater Penthouses will be breaking ground at February Point. These exquisite residences are designed to take you where no Bahamian waterfront community has ever gone before—up, out and over the sparkling turquoise blue waters. These exclusive overwater homes will be a true rarity, with no equal in the entire Western Hemisphere.
These luxury overwater residences are unlike anything you've seen before or will likely see again. This masterpiece of imaginative design stands alone like a new species, offering a totally new style of out island living.
To own one of these exclusive, limited edition overwater trophy homes is to immerse yourself in the very heart of paradise every single day. From every vantage point are brilliant blue waters as far as the eye can see. Life here is seamless, with no separation between you and the tranquil turquoise bay. You become the water, and the water becomes you.
These exclusive Overwater Penthouses are for those fortunate few who crave only the best the world has to offer, including the ultimate waterfront lifestyle. With a private boat dock outside your front door, top-of-the-line finishes and the finest luxury appointments, your distinctive new overwater home will set the scene for the most unique, decadent island lifestyle you can imagine.
The Penthouses at February Point Will Be Breaking Ground – 4-bedroom homes starting at $5,700,000. Only a limited number of homes will be built. Claim your piece of the dream before it's gone. To learn more about the residences at February Point, click here, or for more information contact the sales center at 242.336.2661