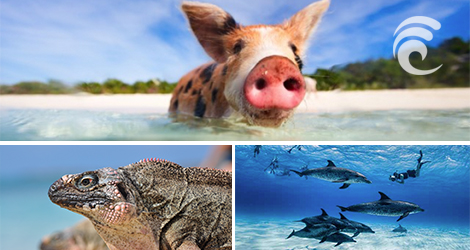 The pristine waters, shifting sandbars, and unique marine life make the Exumas the most exotic of the Out Islands. With the Exuma Cays Land and Sea Park, a 176-square-mile natural reserve where you will find brilliant creatures, and the numerous uninhabited islands, it's no surprise that the Exumas topped Travel + Leisure's List of Best Wildlife Spotting in the Bahamas.
Exumas Pigs
The easy life in this island chain isn't just for film stars. Some less famous fellows can be spotted frolicking on the beaches and basking in the shallows- the pigs of the Exumas. The phenomenon is a bit of a wild life enigma, as these animals are not indigenous to the Bahamas. But they have happily accepted the sun-soaked beaches as their home, playing in the sand and swimming up to boats.
Sandy Cay Iguanas
Though its vast and pristine beaches are the source of this island's beauty, the resident rock iguanas give it its charm. Sandy Cay is home to the blockbuster Hollywood movie, Pirates of the Caribbean and to a species of rare rock iguanas. The Sandy Cay iguanas live a protected life in the sanctuary of their national park, but they do welcome visitors bearing gifts of fruits and vegetables specifically grapes on stick.
Others who made the list:
Inagua Flamingos
Bimini Dolphins
Eleuthera Turtles
Whether you are looking for a new place to call home or to vacation, the Exumas are a Bahamas destination admired around the world for its spectacular natural beauty, unique wildlife, and vivid blue waters that defy description. The authentic out island life is waiting for you at February Point on Great Exuma.
The February Point community offers prime oceanfront properties and luxury villas available for ownership or rent. The Views oceanfront condominiums, named for the scenic views of the turquoise blue waters of Elizabeth Harbour, are now move-in ready with luxury furnishings. By the end of the year, the expanded Marina will be complete, and the Bahamas' first overwater Penthouses will be under construction. Secure the best selection and pricing now. To learn more about February Point real estate, click here.
To read the full article click here.