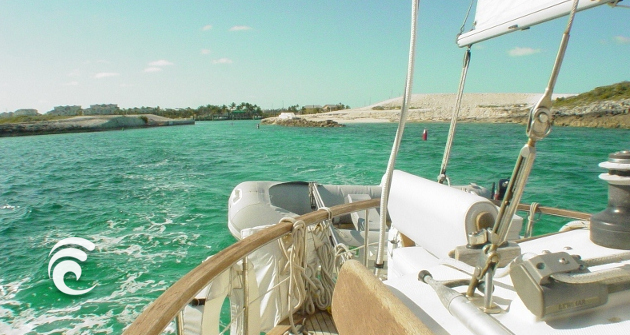 Posted on December 16, 2015
The Staniel Cay Annual New Year's Day Cruising Regatta attracts visiting yachtsmen cruising The Exuma Cays to test the speed of their craft in a competition against traditional Bahamian sloops. This year the Regatta celebrates it's 41st year, originally created by Kenneth Rolle of Happy People Marina in 1975. He wanted to bring locals and yachtsmen together for some New Year fun. The race has been held every year since, becoming an important Bahamian tradition.
Captains' Cocktail Party & Pre-Race Briefing with Live Auction: December 30, 2015
Captains and race committee host this annual "grill out" at Staniel Cay Yacht Club. All food and drinks are free! A-Class race logistics will be discussed and crews picked for the next day's race. The live auction that takes place supports the New Years Day Cruising Regatta.

Annual A-Class Challenge Regatta: December 31, 2015
Come experience the thrill of real Bahamian sailing at Staniel Cay with the "Mixed Regatta." It puts guests on the top two A-Class sloops in the Bahamas – Lady Muriel and Tida Wave! They are the most decorated boats of all time in Bahamian Sloop sailing. Guests will team-up with the Bahamian crews on each boat, hence the "Mixed Regatta" name. No sailing experience required.
Annual Cruising Regatta: January 1, 2016
The Annual New Year's Day Cruising Regatta is the grand finale of the events. All cruising sailboats in the area are welcome to participate for fun, prizes and bragging rights! With crystal-clear waters and warm weather, sailors from all over the world race around buoys for an unbelievable sailing experience. The awards ceremony and dinner take place after at the Staniel Cay Public Beach.
The Exumas are a sailing destination admired around the world for their spectacular natural beauty, year round warm weather, and vivid blue waters. On Great Exuma, you'll find February Point that spans 80 acres of beautiful coves and virgin beaches. February Point is the perfect homeport during your sailing adventures in the Exuma Cays. To learn more about the prime oceanfront properties and luxury villas available for ownership or rent, click here.