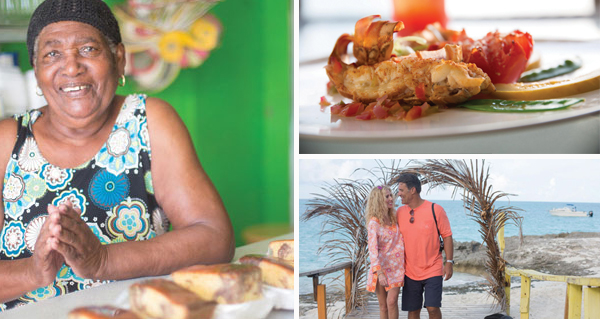 Let's start with this perhaps unfortunate fact. Even here in this place of impossibly white sand and blue water, with the salted breeze stirring palm fronds and appetites, while the fresher-than-fresh catch is already on the kitchen prep tables; there are those people who would rather eat chicken.
We mustn't judge them, doubt their taste or perhaps even their sanity. You might just have one in your family.
Luckily, there is something for every taste here in The Exumas. Pulled pork, roasted pork and barbeque. Bahamian macaroni and cheese (believe in it!). Fried chicken with peas 'n' rice. Hamburgers. Steaks. Upscale takes on local favorites. Gourmet pizza. And even vegetarian options.
All right, we've held off long enough. Time to honor the sumptuous, mouth-watering; "wasn't-this-just-swimming?" stars of island cuisine. Conch. Coconut fried shrimp. Grilled snapper. Fried grouper. And the luscious star of any and every meal, lobster.
Actually, most every restaurant in The Exumas serves seafood beautifully, but there are a few that, casual or not, are particularly noteworthy. So is there every kind of sublime dining on these simple, exquisite cays? Without a single doubt.
HERE ARE A FEW RESTAURANTS TO START WITH
While definitely not a beach bar, Il Cielo (Sandals, Emerald Bay) still manages to preserve an island ambiance with views of the gardens, pools and ocean. One of the pricier choices in Great Exuma. this is the perfect setting for a celebratory dinner. Italian cuisine as well as vegetarian and health conscious dishes. Signature dish: Risotto à la Porcini. Extensive wine cellar.
Exuma Yacht Club. More fabulous views. Lunch menu features burgers, salads and of course the fresh catch of the day. In the evening they also specialize in Italian cuisine, with an emphasis on Pasta, especially with, yes, seafood.
Club Peace and Plenty. With a wonderful view of the pool and harbor, a standout here is the 12-ounce New York strip steak, along with the traditional Bahamian specialties. This restaurant is part of the legendary hotel and is also perfect for a romantic dinner or family celebration.
The Rusty Anchor Bar & Grill just opened within the private community of February Point on Great Exuma. The brand new Beach Club is home to this hot spot, overlooking the gin clear waters of Elizabeth Harbour. The staff and chef from the Coral Bistro are now on hand in their new location making cocktail dreams come true.
Catch a Fire. Is it primarily a bar? A restaurant? Or the absolute, must-be-there spot to watch the glorious Exuma sunsets? Yes, to all. Delicious food, tasty cocktails and absolutely magnificent views. Stick around after the sun goes down; there's live music several evenings a week. Cash only.
Xuma's Bar and Restaurant on Highbourne Cay. Somewhat off the beaten track on a private island, but well worth the journey. Very well reviewed for ceviche and lemon-garlic steamed mussels and our first superb contender for best conch fritters. Also in the frame for best sunset.
Cheater's Restaurant & Bar. Known for its conch chowder and fritters, this is some of the best and freshest seafood going. You will still be talking about the "stew fish" when you get home. And the cracked conch. And…
Santanna's. Apparently Johnny Depp's favorite hangout. Do ask about the time he and the Pirates of the Caribbean crew were here. And absolutely ask for the cracked lobster. Features some of the best seafood prices on the island.
Shirley's at the Fish Fry. First, make sure Shirley is the one in the kitchen. The others are very good, but she may be a genius. Then order whatever she recommends.
But perhaps one of the most appealing eateries isn't a restaurant at all. Prime Islands Meats and Deli is many people's first stop when coming to or returning home to Great Exuma. Steaks. Deli meats. And yes, superb seafood. For the non-cooking stalwarts, rotisserie chickens and all sorts of wonderful, ready-made salads are on offer.
The luxury Beach Club not only features the Rusty Anchor Bar & Grill but also Hollis Day Spa, a beachfront resort-style pool and February Point's real estate sales office. Construction is well underway on the community's first oceanfront condominiums. The first building in The Views condominiums will be completed by September of this year. By the end of the year, the expanded Marina will be complete, and the Bahamas' first overwater Penthouses will be under construction.
Come down and experience this incomparable lifestyle. Now might be the time to invest in YOU. To learn more about a Discovery Visit at February Point, click here.